Our Philosophy
Our philosophy, "Built for the Way you Live" reflects our commitment to building beautiful custom homes for the families who live in them. Each Harder Home is built with style, quality and functionality using only high-end products, professionally skilled trades and cutting edge building practices. A true custom home builder from start to finish, our disciplined approach to construction, exceptional customer service and our one-on-one approach to the home building experience has earned us an unsurpassed reputation in the Home Builders Community. From move-up to estate homes, from urban living to acreage life, Harder Homes can build you the home of your dreams on one of our lots or on any lot you own.
Our Partners
Building a home involves a large number of trades people and suppliers, all of whom are a key part of the building process. That is why Harder Homes has carefully selected award winning suppliers and has partnered up with experienced skilled trades people, who overtime have become an extension of its business. Harder Homes continues to use many of the same trades and suppliers today that were used to build the very first Harder Home. This consistency has allowed Harder Homes to provide unsurpassed quality through the construction process and in servicing. Partnering with skilled trades and quality suppliers allows Harder Homes to continue to meet customer needs and deliver each home on time, every time.
Our Promise
When you build a custom home with Harder Homes, you deal directly with the Owner and in doing so, you can be sure to get straight answers to your questions and feel confident that your home will turn out exactly the way you want it to. A people first, one on one building experience is unique to Harder Homes and we take pride in being a custom home builder focused on building relationships. Harder Homes was built as a family and is operated as family. When you build with Harder Homes, you become part of the family.
Our Plan
Every year, Harder Homes develops a building plan which is centered on continued sustainable growth. By only building according to the plan, Harder Homes can ensure that every home and every customer receives the one-on-one attention they deserve. This disciplined approach to the building process has enabled Harder Home's to maintain a standard of quality that is difficult to achieve when constructing a larger number of homes and to focus on the attention to detail that you expect to see in your custom-built home.
Our Difference
Design
As a custom home builder, each Harder Home is a unique design. Clients of Harder Homes can expect to work with a team of architects who will listen to your needs and put your vision on paper. From move-up homes to estate homes, from urban living to acreage life, building with Harder Homes is a true custom home building experience and there is nothing that cannot be done.
Customization
From design to customization, clients of Harder Homes are able to tailor their house to their personal tastes and preferences with endless choices and selections. At Harder Homes, we believe customer choice should be endless and upgrades should not cost an arm and a leg which is why our list of Builders Standards is long and always include certain features customers love, including granite, main floor hardwood, custom cabinetry and surround sound.
Learn more about our Builders Specifications.
Technology
At Harder Homes, we believe the integrity and structure of the home is the most important aspect of the home building process. While often overlooked to those not involved in the process, this stage of the construction is the foundation of everything else that follows. That is why Harder Homes uses quality trades and suppliers in making the house structurally sound and energy efficient including: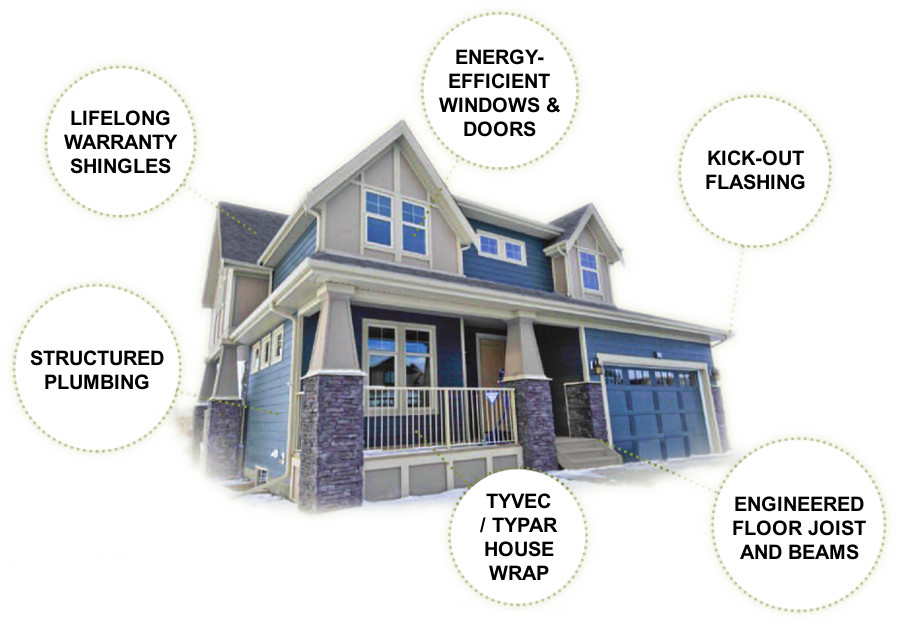 Lifelong warranty asphalt shingles
Energy-efficient windows and doors with blue skin technology
Kick out flashing where roof and walls intersect helps divert water flow for protection against the elements
Ice & water technology in combination with roof edge installation - to help moisture from entering your home
Engineered floor joist and beams to minimize shrinkage and provide structural integrity to your home
Spray foamed joist ends, cantelevers and living space over the garage to keep your home energy efficient.
Tyvec / Typar House Wrap to protect your home for moisture and against the elements
Structured plumbing - fewer connections means less risk of leak
Structural Integrity
Built tall walks to underside of sheathing create proper vapour barrier seal
20″ footing with 8″ concrete foundation wall and tarred basement 2 x 6 construction at 16″ on centre covered in 3/8th OSB
23/32nd OSB T&G sub-floor glued and screwed
Insulated, dry-walled & fire-taped garage
The Alberta New Home Warranty Program